Introducing Dapp.page - Decentralized DeFi & NFT Opportunities Portal
Discover new DeFi & NFT opportunities with the first Compendia-powered service: Dapp.page 🚀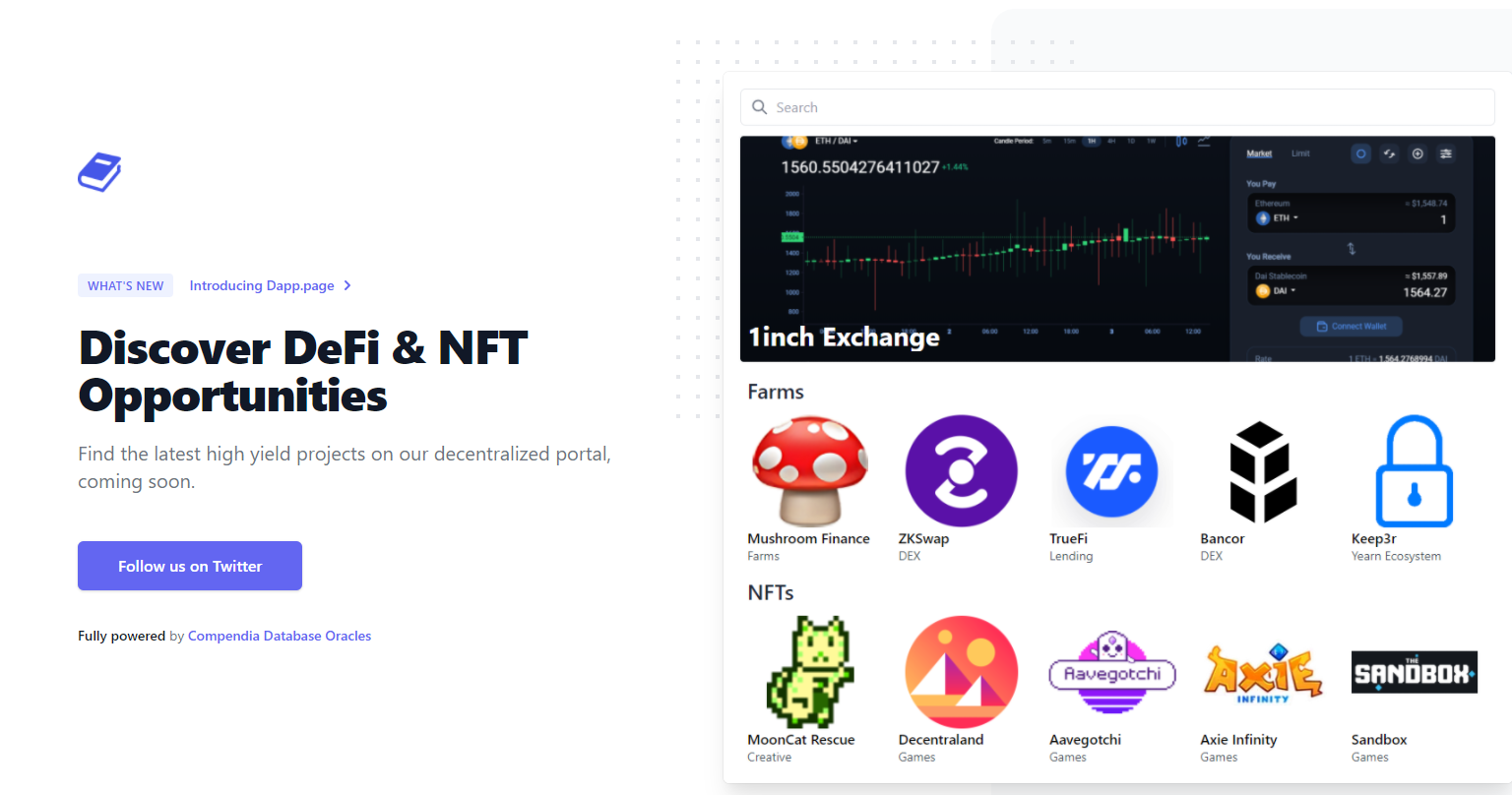 ---
TIP: There's a ß84,000 ($5,000) community giveaway happening!
Scroll to the bottom of this post for details.
---
This month we announced a full stack of services that power Compendia Database Oracles:
Using these tools, we're building a new decentralized service:
Dapp.page - the decentralized portal for high yield opportunities, NFT airdrops, and more.
---
TIP: New followers of @DappPage on Twitter may get a notification about an airdrop!
Click the 🔔 next to the Follow button on Twitter to stay up to date!
---
Powered by BIND & Compendia
All opportunities displayed on Dapp.page are provided by Compendia Oracles and are ranked by BIND holders' votes.
Data can be submitted by oracles through automation, user submissions, personal curation, and any other method that oracles (and their voters) want to adopt.
Influence over dapp.page is distributed to BIND holders, and especially stakers (since staking grants a tremendous boost to your voting power).
More methods for decentralized data rankings (powered by BIND holders) will be introduced in the future!
Ready to dive in?
Get BIND today.
Building a Compendia-powered app
With Compendia's new tools combined, we can build Dapp.page with the following steps:
Use Oracle Explorer to find a schema that fits our use case (a DeFi/NFT opportunities portal), e.g. a "dapps" schema.

Run a Savant instance to automatically discover data from all dapps databases registered on Compendia's blockchain and expose them in a single read-only API.

Connect our app's front-end to Savant.
Now we just need to display the data in a pretty way (we like to use Svelte), and we have a fully functioning app with data provided by Compendia oracles and managed by BIND holders!
Becoming a Database Oracle
If you want to become a Compendia Oracle and add data to the dapps collection, you can:
Register a Validator on Compendia to unlock database & schema transactions.

Create our database by starting a Concierge instance with "dapps" set as its schema.

Populate our database with Concierge's API or the Maestro dashboard.

Register our database in the Compendia wallet by copy-pasting the address generated by Concierge.
Your database is now discoverable and synced in real-time by Savant instances that use the dapps schema!
If your oracle provides valuable data and offers attractive incentives to BIND holders for their vote, you can get paid BIND block rewards and have your data ranked higher on Dapp.page!
---
Note: It's not possible to interact with Compendia's Oracle tools yet. They'll be launched soon on Testnet.
---
The next update will take place on March 26th, introducing a new BIND-centered service that'll be full of surprises!
Follow us on Twitter and enable notifications to stay up to date!
Community Giveaway ($5,000 prize pool)
We also want to bring your attention to this Compendia Community Giveaway, powered by various validators and the Compendia team!
The rules of the giveaway can be found here.
Follow Compendia
Follow Dean van Dugteren