Introducing Bind.Fi - Decentralized Finance powered by BIND
Bind.Fi merges the value of Compendia Oracles and Validators with decentralized finance.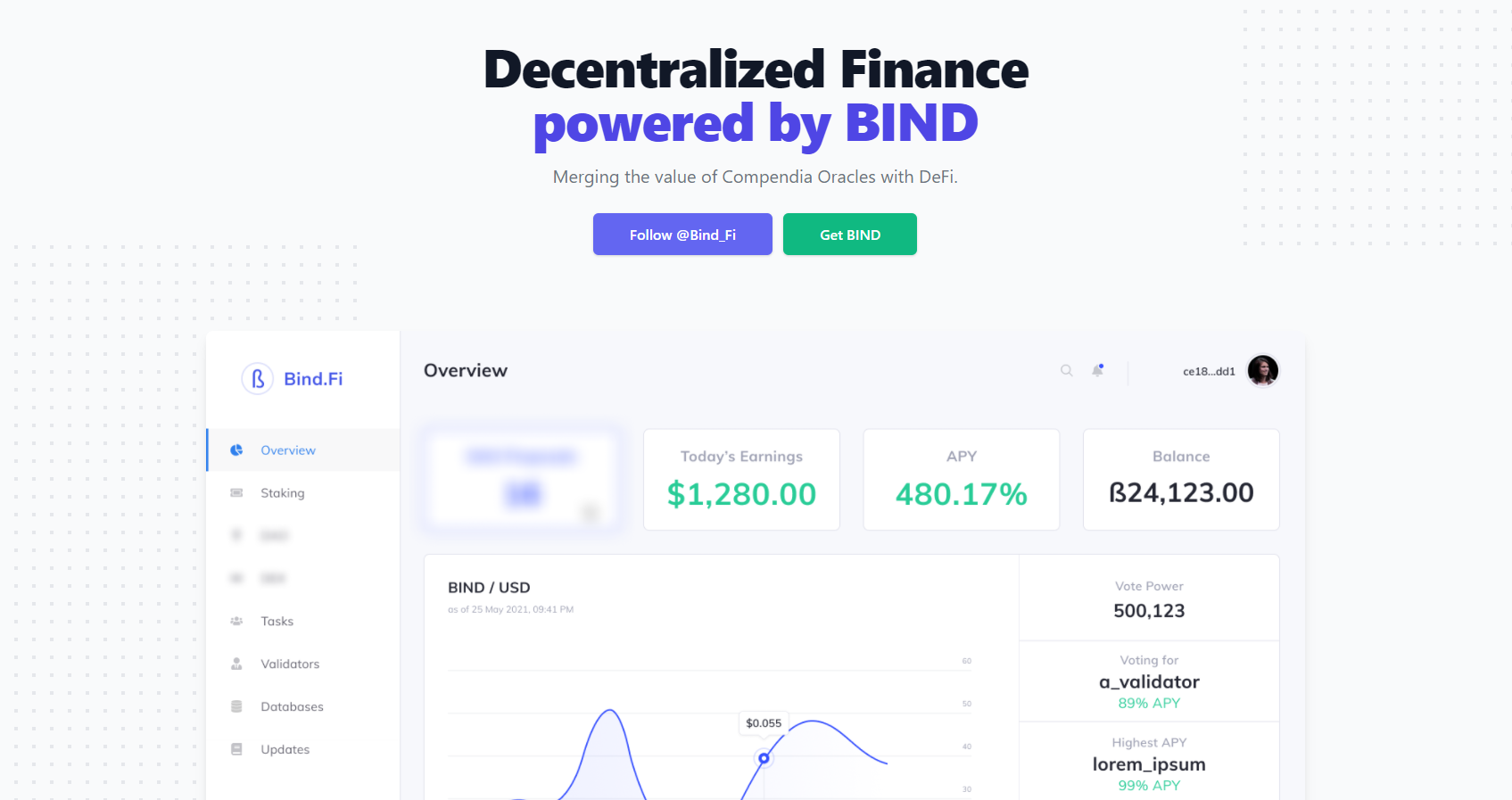 This month we announced a plethora of new Compendia products: a full-stack development suite for Compendia Oracles, and Dapp.page (which is built with that suite).
For our final March announcement, we're elevating BIND to a new level!
Bind.Fi - Decentralized Finance powered by BIND.
---
Note: This post contains a sneak preview of Bind.Fi. More details will be announced in the future as Bind.Fi comes closer to launch.
---
What is it
Bind.Fi forms the core application for interacting with Compendia and BIND.
Next to integrating Compendia Wallet's features (blockchain transactions, ERC20 wrapping, DEX), there will be a number of major new features:
Voter APY optimizer: sort validators by their voter APY and other funding strategies (e.g. bind.farm reward distribution). This lets you easily update your vote based on real-time Compendia blockchain data and maximize your APY.

Open task market: Complete tasks and earn BIND. A task could be to refer a friend to a Compendia product, submit an entry to an oracle's database (e.g. a new DeFi app for the "dapps" category), create a YouTube video about Dapp.page, etc. Tasks can be created by validators and completed by anyone.

???: A brand new feature that will redefine BIND as a digital asset for decentralized finance. We're very excited about this one, and we can't wait to share more!
More features and services will be included in Bind.Fi that will help holders gain the most out of staking, voting, feeding data to oracles, providing liquidity, and more.
This is just the preview!
🎵 This is just a tribute!
Follow @bind_fi and @CompendiaOrg on Twitter to stay up to date! Make sure to click the 🔔 icon to receive a notification when we release news.
Community Giveaway Block Height
For the ß80k BIND Compendia Giveaway organized by ADZ and sponsored by many validators (listed below) and ourselves (matching the prize pool), we're sharing the Compendia block height at which this post is published:
3,118,250
Validator Adz will contact the winners!
Special thanks to all Compendia validators who decided to sponsor ß2,000 BIND for this event:
adz
don_viti
thebobbiebunch
maryo
wonderland
korfanty
bindie
blues_for_alice
arktoshi
quentin
fnoufnou
st3v3n
thamar
friendsoflittleyus
arbaro
captain_future
pnwdrew
witchlove1974
kippers
dutch_pool
drakeler
Follow Compendia
Follow Dean van Dugteren