Introducing Compendia: nOS Network, Rebranded.
We're incredibly excited to announce nOS Network's rebranding to Compendia. Here's all you need to know about the new network and cryptocurrency.
Humble Beginnings
In 2018 we introduced nOS as an all-in-one platform for building, publishing, and discovering crypto-powered apps.
nOS's biggest feature is its app store: A community-driven and decentralized directory for apps.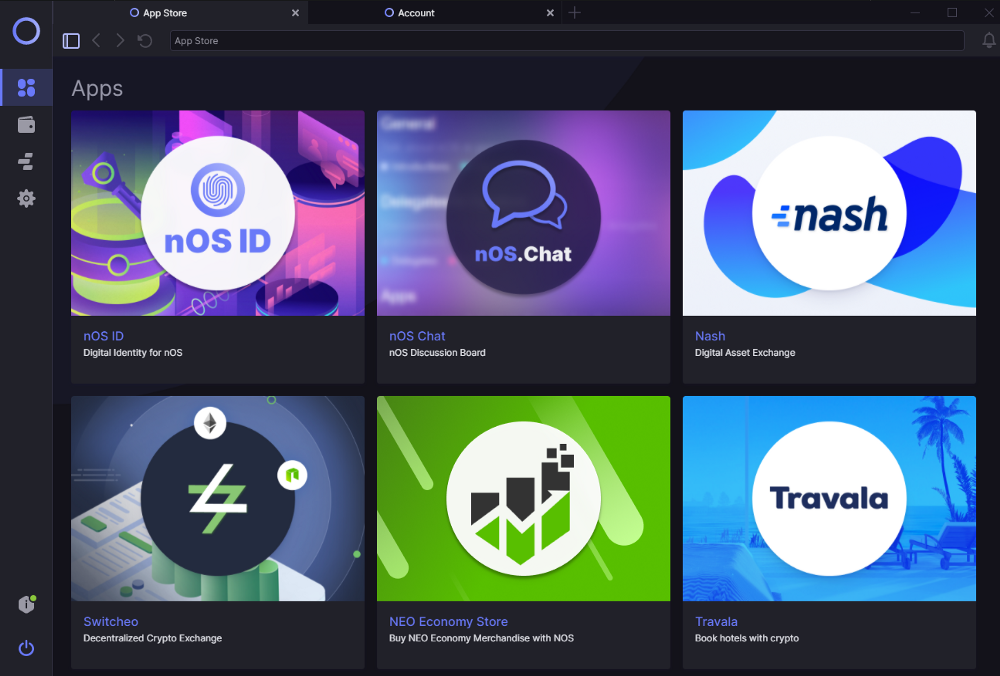 While writing the smart contracts, we found that the code would become so ever-evolving that it would need to be updated frequently. And that's not what smart contracts are for.
So, we decided to build a new decentralized network.
And that led us to something bigger.
More than an App Store
While working on our network (using the ARK Core blockchain framework), we realized that it could become much more than just a decentralized directory for crypto apps.
We could let anyone share real-time databases for anything. Not just apps, but also videos, news, DeFi data, cryptocurrencies, music, stocks, and so forth.
If it works with a database, then it could use our network.
The network would become The Wikipedia of Databases for APIs and Smart Contracts.
Think of it as an Oracle Network, but instead of only serving small pieces of data like "the price of ETH", it can serve full collections of data like "the top 50 cryptocurrencies sorted by DEX volume". Or, in the case of a crypto app store: "all crypto apps sorted by popularity".
So that's what we're building.
Now, our network is ready to launch with many unique features:
Staking system to power its Delegated Proof of Stake economy. Staked coins are removed from circulation for a set period (3 months, 6 months, or 12 months) and the staker receives increased vote power.
Dynamic Transaction Fee Removal: the majority of all fees collected are removed from circulation.
Decentralized Filesystem powered by IPFS.
Decentralized Validator Profiles.
Brand new Block Explorer and Wallet.
Ethereum integration with multi-way swaps and Uniswap-powered DEX.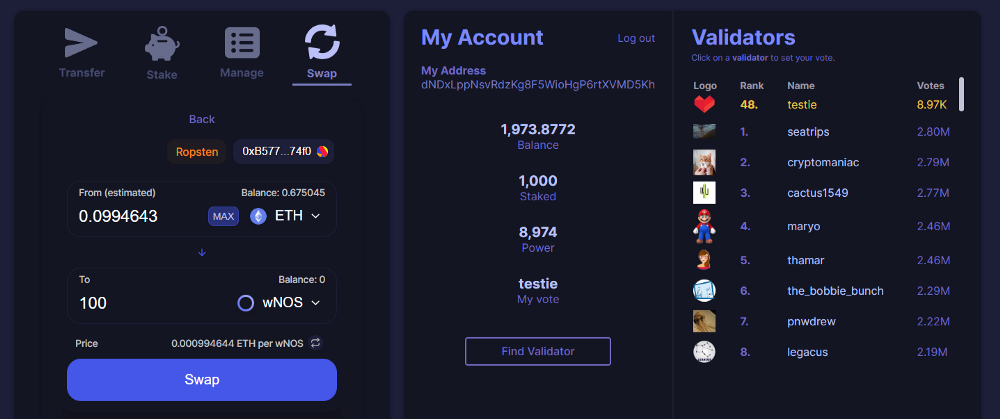 After launching the network's mainnet, we'll focus entirely on shipping the network's main feature: the decentralized database system.
Evolving to Compendia
Everything was going well, but we ran into a problem...
If everything launched under the nOS brand things would get complicated!
We'd have the nOS... Client, Wallet, App Store, Explorer, Network, coin, and so forth. So it's time to improve our branding.
Clear Branding
We want nOS to become the internet's multi-crypto wallet and app store. We want the network to power nOS, but also many other types of services.
The network is a new way to build and get collections of useful data.
What's another word for a collection of useful data? Compendium.
And what are multiple collections of data? Compendia.
And just like that: Compendia is born.
BIND: Compendia's cryptocurrency
nOS Network has evolved to Compendia.
And the NOS cryptocurrency has evolved to BIND.
Why BIND?
A bind is what holds a compendium together (bookbinding).
You can bind your tokens to Compendia's network and increase your voting power through staking.
These two points make BIND the perfect match for Compendia.
Want to get BIND? You'll be able to swap your NOS (available on Switcheo) to BIND soon!
New Website, Blog, and Documentation
We're pairing today's rebrand with our new website: Compendia.org.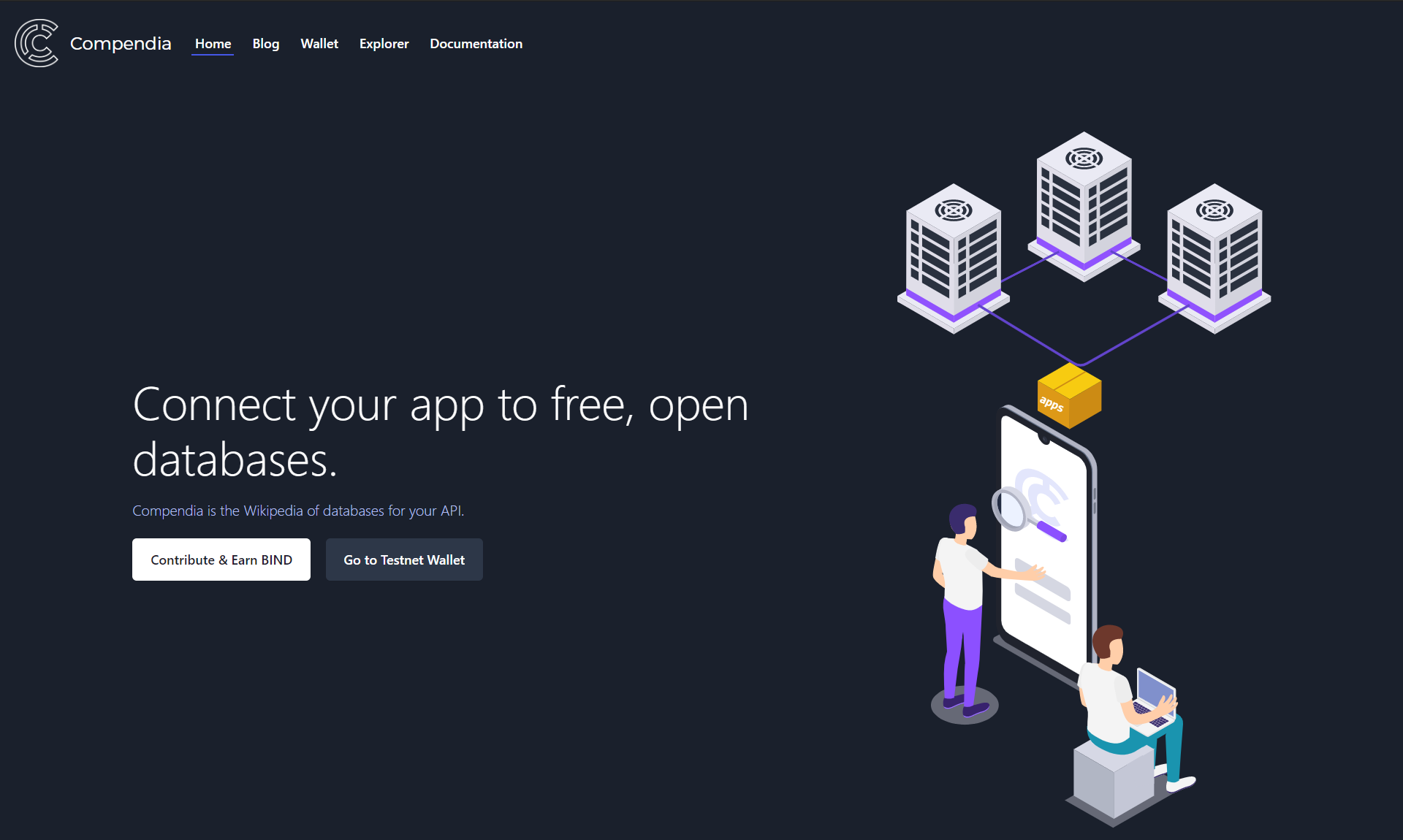 The website also hosts our blog. Goodbye Medium!
We also launched a dedicated documentation site. Everything you need to get involved with Compendia and BIND can be found there.
If you want to learn how to earn BIND, stake and vote, run your own nodes, or build Compendia apps: pay the docs a visit!
Our testnet resources (APIs, wallet, and explorer) will also move from nOS domains to Compendia.
Summary & What's Next
Here are all branding changes in a nutshell:
nOS Client, the multi-blockchain crypto wallet, is now just nOS. You can download nOS at https://nos.io.
nOS Network is now Compendia: a decentralized network for open data. Compendia's website is https://compendia.org.
NOS (the coin) will soon be BIND.
As one of Compendia's initial integrations: The nOS App Store will be curated and listed by users and validators on Compendia.
And here's what's next:
Mainnet launch this month August 2020 (exact launch date TBA)
Decentralized databases network feature
New front-end for the the Compendia Wallet & Explorer
nOS 1.0 with support for multiple cryptocurrencies, plus browser app.
nOS App Store, powered by Compendia.
SDKs and starter kits for building Compendia-powered apps and services.
Oracle network feature: allow nodes to feed data collections to Ethereum smart contracts.
Also, we're helping various upcoming validators with their community projects! Expect many new services to be released 🙏
Gratitude
If you've been with us for a while: thank you so much for your support! We're excited to have you with us on this incredible journey. You can talk with us any time on Telegram!
Follow Compendia
Follow Dean van Dugteren